The decision by San Francisco 49er Chris Borland to retire from the NFL after just one season out of concern for the long-term effect of head trauma has predictably generated a media firestorm. But lost amid the hoopla is what it means for sports parents.
Here are two lessons I think parents with kids playing -- or considering playing -- football or other contact and collision sports can take away from the Borland retirement, and one lesson they shouldn't take away:
1. Retirement from contact/collision sports should always be an option.
Borland is to be applauded for making his decision to walk away from a pro career only after carefully weighing the risks and rewards with family, friends, doctors, and concussion experts, and after doing his own research. Parents need to let themselves and their children know that there is no shame in doing the same.
As we teach in The Smartest Team documentary, retirement is the last pillar of our Six Pillar concussion risk management program, one which parents and athletes should keep open as an option at all times.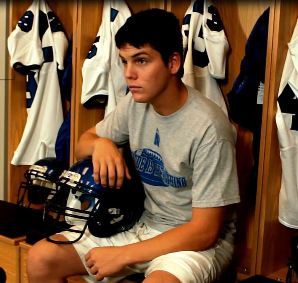 © MomsTEAM Institute, Inc. 2013-2015
In making a retirement decision parents should know that medicine has not yet figured out how many concussions, or, for that matter, how many hits are too many.(1) There is no magic number, no over-under. The number that leads to permanent loss of memory, concentration, or reasoning skills, and/or that increases the risk of dementia and other problems later in life, is unknown and is likely influenced by various lifestyle and environmental factors, such as smoking, alcohol consumption, physical exercise, and personal and family history.
2. The "culture of resistance" to self-reporting of concussion symptoms is a huge problem in sports which requires urgent attention.
Borland admitted that he failed to report a possible concussion during his rookie training camp because he feared that, if he did, he might not make the team. Unfortunately, the failure to honestly self-report symptoms is the rule, not the exception; all too often, parents, coaches, teammates, and the very culture of the contact and collision sports (what the Institute of Medicine (1) dubbed the "culture of resistance") encourage athletes to remain silent.
How can we change that culture? For starters, parents need to consistently reinforce with young athletes the message that continuing to play with concussion symptoms puts them at increased risk of more serious brain injury (2,3), a longer recovery time (2,3), and, in very rare circumstances, catastrophic injury or even death from second impact syndrome.
Parents and coaches also need to work to create a safe reporting environment in which athletes perceive the positive consequences to reporting (being able to return to play sooner, not later; avoiding long-term brain injury), believe that coaches, parents, and teammates expect them to report concussion symptoms, and have increased confidence in their ability to report concussion symptoms.
The problem we face is that overcoming the culture of resistance by creating a safe concussion reporting environment is going to be extremely difficult, and take a long time (indeed, some doubt whether it can ever be accomplished), so what do we do in the meantime? What's our Plan B?
Many, myself included, believe that the answer to the problem of chronic concussion under-reporting lies in impact sensors which can be used for real-time monitoring of head impact exposure (e.g. number, severity, location, and cumulative impact) at all levels of football, and other helmeted and non-helmeted contact and collision sports where practical, to identify high risk impacts and alert qualified sideline personnel to consider performing an early concussion assessment. (I will leave my thoughts on the use of impact sensors for tracking the number of hits to another day)
Some, including my hometown paper, The Boston Globe, are now urging college, high school, and recreational leagues in contact and collision sports to consider mandating use of impact sensors, or, at the very least, experimenting with the technology, and for professional leagues, like the NFL, to follow the lead of the Arena Football League in mandating their use, believing that star players, by using the devices, could help break down barriers to more widespread adoption.
Unfortunately, the National Football League has gone in exactly the opposite direction, deciding last month to suspend a pilot program using sensors in players' helmets for the 2015 season because data collected during the 2013 season was not considered reliable enough (for what, the league didn't say), and because the Players Association questioned whether the data would be kept private and not used against a player. (Do you hear money talking?)
While the technology isn't perfect, I think that, as long as appropriate safeguards are put in place to ensure that the privacy of the players is protected, and that access to the data the sensors generate is restricted to those who can use that data intelligently (such as a certified athletic trainer or coach), the best way to refine and improve impact sensor technology, and educate players, coaches, parents, and ATs about the advantages to it use, is, well, to use it.
3. It's the straw that broke the camel's back (not)
Finally, the one thing I urge sports parents not to do in response to the Borland retirement is panic. Some are predicting that the news itself will prompt many parents to pull their kids out of football. They may be right. But I don't view the decision by one professional athlete to retire as meaning all that much in the larger scheme of things.
It is clear from media reports that Borland made a careful, reasoned decision based on a thorough investigation of the risks and benefits of continuing to play professional football. In deciding whether to allow their child to start playing or continue playing collision sports, I believe parents should do the same: weighing the risks of participating in a particular sport - based on the most up-to-date information about those risks - against the benefits to the child of participating, before making a decision that makes sense for them and their child, given their particular situation.
In making that decision, it is worth noting that, despite widespread media coverage and speculation regarding the late-life or post-retirement risks of cognitive impairment in athletes who engaged in sports involving repetitive head trauma, and that chronic traumatic encephalopathy (CTE) causes them to be a high risk of suicide, there has been little to no peer-reviewed scientific literature that establishes, much less quantifies, such risks.(4) In other words, the media is ahead of the science.
The fact is that this line of research is still in its infancy. What scientists are realizing is that it's probably not how many concussions or hits an athlete sustains that makes a difference, but their total exposure to concussive and sub-concussive blows - in other words, a dose response.
Chris Borland decided that he didn't want to increase that exposure by continuing to play professional football. No more, no less.
For more youth sports concussion safety information, visit the MomsTEAM Youth Sports Concussion Safety Center.
---
Brooke de Lench is Executive Director of MomsTEAM Insitute, a 501(c)(3) tax-exempt organization, Founder of MomsTEAM.com, and Producer of the PBS documentary,
The Smartest Team: Making High School Football Safer
.  You can follow Brooke on Twitter @brookedelench.
Notes:
1. Institute of Medicine (IOM) and National Research Council (NRC). 2013. Sports-related concussions in youth: Improving the science, changing the culture. Washington, DC: The National Academies Press.
2. McCrory P, et al. Consensus statement on concussion in sport: the 4th International Conference on Concussion in Sport held in Zurich, November 2012. Br J Sports Med 2013;47:250-258 & n. 59-65.
3. Harmon K, Drezner J, Gammons M, et. al. American Medical Society for Sports Medicine position statement: concussion in sport. Br J Sports Med 2013;47:15-26 (a concussion decreases the cognitive ability and reaction time of an athlete, which theoretically diminishes the ability of the athlete to respond to the demands of the sport, increasing the risk of a second brain impact or injury or injury to other body parts. In addition, early activity after concussion can prolong symptoms and neurcognitive recovery).
4. Gardner A, Iverson G, McCrory P. Chronic traumatic encephalopathy in sport: a systematic review. Br J Sports Med. Published Online First: June 26, 2013. doi: 10.1136/bjsports-2013-092646.